Qu'est-ce qu'une campagne de marketing d'affiliation ?
Essentiellement, le marketing d'affiliation est une méthode publicitaire permettant de stimuler les ventes et de générer des revenus en demandant à d'autres personnes (comme des blogueurs, des influenceurs ou d'autres entreprises) de faire la publicité des produits et services d'une entreprise en leur nom. En plus de bénéficier aux marques, les spécialistes du marketing d'affiliation tireront également profit de cette technique. Les affiliés soutiennent des produits ou commercialisent des services sur leurs sites Web, leurs applications ou leurs blogs. Ceux qui convertissent les pistes en ventes reçoivent des commissions.
Pourquoi créer une campagne marketing
Les campagnes marketing sont l'un des moyens les plus efficaces d'atteindre vos clients, vos clients et vos prospects. Les rencontres avec les prospects ou les clients peuvent être assurées grâce à ces actions. Les campagnes comportant plusieurs points de contact sont beaucoup plus efficaces qu'une seule publicité pour attirer l'attention. Les campagnes marketing assorties d'incitations peuvent vous aider à sortir du lot lorsque vous faites votre promotion.
Incentives can also help you follow up with customers after the campaign has ended. It has the effect of explaining what you offer and promoting your brand further. Marketing campaigns are an integral part of B2B sales strategies. No matter if you're keeping in touch with current clients or finding new prospects, this is helpful. With a good strategy, you can capture a customer's attention and stand out from the crowd.

Qu'est-ce qu'une bannière ?
Une campagne de bannières publicitaires utilise un affichage graphique rectangulaire qui s'étend sur un site Web ou un média en ligne de haut en bas ou d'un côté à l'autre. L'utilisation de bannières de marketing d'affiliation peut être un moyen clé pour les affiliés de promouvoir vos produits ou services, et de fournir une publicité visuelle qui encourage les prospects à s'engager avec eux, offrant des accroches clickbait pour inciter les gens à suivre un lien et à adhérer, ou à en savoir plus.
Post Affiliate Pro vous permet de présenter à vos partenaires affiliés des bannières prêtes à l'emploi dans le cadre de vos campagnes promotionnelles complètes.
Pourquoi les bannières publicitaires sont-elles importantes ?
Les meilleures bannières publicitaires attirent l'attention du lecteur et l'incitent à s'intéresser au produit ou au service faisant l'objet de la publicité. La plupart d'entre elles sont lumineuses, conviviales et transmettent leur message par des images plutôt que par du texte. Elles peuvent être statiques ou animées.
With banner advertising, you can grow your brand's online presence and make your products and services more visible to people. In addition to generating leads with this type of advertising, these ads can encourage people to try out your products or services, or even sign up for your email list. The last benefit we want to highlight is that they make it easy for you to retarget your audience. You'll be able to remind visitors who have not bought your product or subscribed to use your service that they should.

Que pouvez-vous voir dans les rapports ?
Vous pouvez consulter des statistiques détaillées sur chaque paramètre important de votre programme d'affiliation, notamment les affiliés, les campagnes et les bannières.
This will help you optimize your campaigns and banners or compare two campaigns side by side. Here are some examples of metrics available in Post Affiliate Pro.
Active Affiliates
Parmi les gestionnaires d'affiliés, le ratio d'affiliés actifs est important. L'indicateur décrit le nombre d'affiliés actifs et performants ou d'éditeurs au sein du réseau.
L'outil peut également identifier la source des meilleures impressions, ainsi que la source des taux de conversion les plus élevés et les plus bas. Ces informations sont utiles aux gestionnaires d'affiliés pour identifier les affiliés qui méritent d'être récompensés et ceux qu'il faut laisser partir.
Click-Through Rate
En ce qui concerne les publicités, le taux de clics (CTR) est une mesure de suivi qui permet de savoir combien de liens sont cliqués par rapport au nombre d'impressions de la publicité.
Une telle mesure peut révéler des failles dans les stratégies de marketing d'affiliation. La performance d'un lien peut être évaluée en fonction du nombre de clics et d'impressions qu'il reçoit. Si le nombre d'impressions est supérieur au nombre de clics, cela signifie qu'il y a un problème avec la page de destination.
Conversions
Conversions (sales and actions) are the ultimate objective of affiliate marketing. Conversions occur when visitors complete what they are supposed to do on an affiliate's site, such as joining an email list, filling out an opt-in form, or buying a product.
Les affiliés gagnent plus d'argent lorsqu'ils convertissent plus de clients. En retour, cela se traduit par davantage de ventes et de profits pour l'annonceur.
Trafic
The number of visitors or users visiting a website or blog is measured as traffic or usage. An increased amount of traffic means more impressions and, potentially, more conversions for a blog or website.
Moins de trafic signifie moins d'impressions, de conversions et de clics. L'utilisation des informations sur le trafic peut aider les spécialistes du marketing d'affiliation à comprendre comment les visiteurs réagissent à certaines stratégies de marketing (par exemple, le matériel promotionnel, les annonces, les liens et les critiques).
Watch video about affiliate activity monitoring.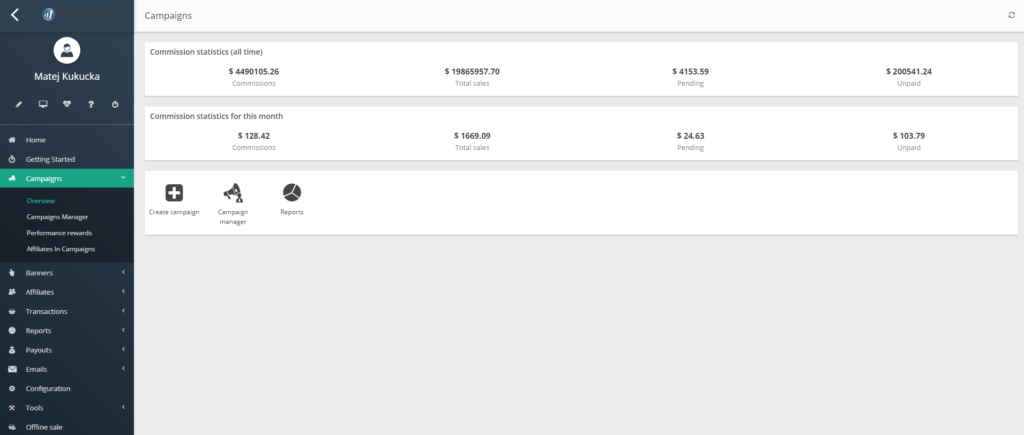 Pourquoi ces caractéristiques sont-elles importantes dans le marketing d'affiliation ?
Savoir comment suivre les indicateurs dans le marketing d'affiliation peut aider les annonceurs et les affiliés à déterminer les méthodes qui génèrent des résultats et celles qui n'en génèrent pas, afin qu'ils puissent améliorer leurs efforts de marketing en conséquence. En outre, les affiliés pourront choisir les annonceurs avec lesquels ils souhaitent s'associer et ceux avec lesquels ils ne le souhaitent pas. En résumé, les mesures de suivi aident les annonceurs et les affiliés à gagner plus d'argent.
{
"@context": "https://schema.org",
"@type": "FAQPage",
"mainEntity": [{
"@type": "Question",
"name": "What metrics are important in affiliate marketing?",
"acceptedAnswer": {
"@type": "Answer",
"text": "Knowing how to track metrics in affiliate marketing can help both advertisers and affiliates determine which methods generate results and which do not, so they can improve their marketing efforts accordingly."
}
}, {
"@type": "Question",
"name": "What is an affiliate marketing campaign?",
"acceptedAnswer": {
"@type": "Answer",
"text": "An affiliate marketing campaign is an advertising method of driving sales and generating revenue by having others (such as bloggers, influencers, or other companies) advertise a company's products and services on their behalf."
}
}]
}